Absenteeism is inevitable in larger organizations, whether it be a team-member going on vacation or leaving a project permanently. For this eventuality, we have implemented a special Administrator capability for Celtx For Work users: the 'Become User' button.
How it works
For C4W administrators, you can now find a 'Become User' button next to every user's name on your Studio Management>Members page.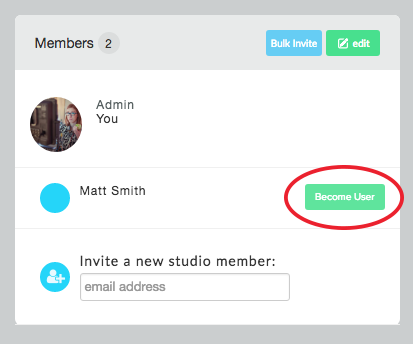 As well, within a project, you will be able to select a user's sharing settings and find this button there.
Once clicked, an administrator will be logged in as the selected user, seeing all projects that the user has created in their account and having unrestricted access to their account settings. They will see this bar at the top of their screen.

Click "Return to account" to log out of the user's account and back into the administrator's account.