Are you looking for one of the following project types?
Two-Column AV
Comic Book
Audio Play
Sketch
Novel
These script templates are a proud part of our Celtx history. As we work on updating Celtx studios, however, we can no longer support the creation of our old, legacy project and file types.
In May 18, 2022, these scripts became download-only.
What does this mean?
While you'll no longer be able to edit these scripts, you can still download them as Text files from your Legacy Projects folder.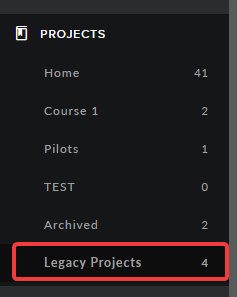 Additionally, if you were using our Two-Column AV, we can suggest a move to our Multi-Column AV projects which offer the same layout with additional options!
I still have questions!
We understand that this change can be confusing and inconvenient. We're going to do our best to support you during this transition. Please rest assured that your intellectual property remains intact. If you require help with understanding how to proceed, please reach out to our support team.