Ready to roll? Time to generate a call sheet. Creating call sheets with Celtx makes the process easier, faster, and with less room for error. Information is automatically pulled from across your Project Documents, and can be updated with a single click. If your Schedule, Script, or personnel change, these updates can be instantly reflected on your call sheet.
Before you Begin
Before generating a Call Sheet, you'll want to ensure that the necessary information is included in other Project documents. While information is gathered from across your Project, at a minimum creating a Call Sheet requires a Shoot "Start Date" as well as one or more scheduled scenes. This data information is defined in your Schedule – specifically the Stripboard and the Calendar.
Stripboard
Your Stripboard is how you organize which scenes are shot on which days. To generate a Call Sheet, be sure that at least one Scene is found above an "End of Day" banner. To do this click the "Add End of Day" button, then drag the End of Day banner below at least one scene.
Calendar
Once you create your first "End of Day", your project's Calendar will default your first Shoot Day to the current day … that's cutting it a little tight. To adjust this, click the Calendar button found on top of your Stripboard, and drag-and-drop the Start Day accordingly.
Creating a New Call Sheet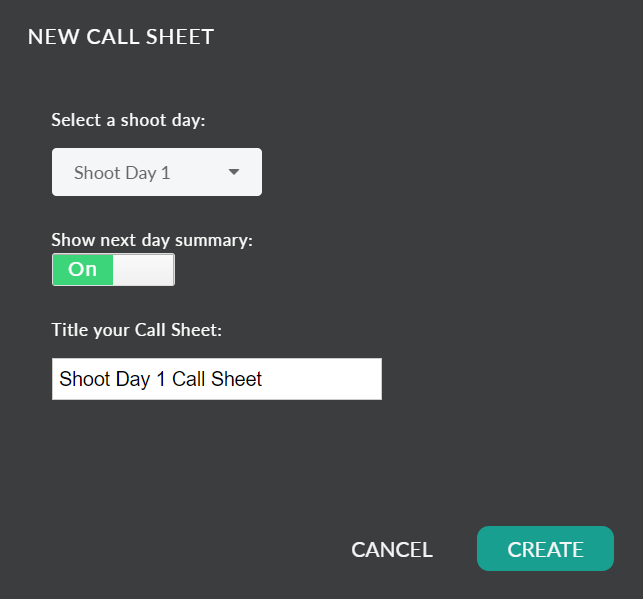 Once you're ready to create your first call sheet, click "Call Sheet" – from your main Project View or directly from your Schedule. Then click, New Call Sheet.
You'll be asked to select which shoot day the Call Sheet is for, and whether to show a Next Day Summary. Title your call sheet and click 'Create'.
Creating and Updating your Template
Your Call Sheet Template stores information that rarely changes within a single production, like Production Company details. Any new call sheets you create will contain pre-populated and locked Template information.
You can update your template at anytime, and these updates will apply to existing call sheets upon clicking the "refresh" button any Existing Call Sheets.
Editing and Updating your Call Sheet
Call Sheets are information-rich documents. Some of this information will populate automatically from other documents in your Celtx Studio – and from up-to-date weather reports. Other information is inserted manually, though sometimes this will be aided by suggestions drawn from your Catalog, Cast & Crew and existing Call Sheet entries (partially automated).
Automatically-populated Data
This data reflects information found in the Stripboard, updated in real time.
Locations
The Locations section is populated by the Location Assets [anchor to BD] that are associated with the scenes scheduled for that Shoot Day. If you have not added a location to a scene yet, you can do so in Breakdown Mode.
Scene List
Information featured in the "Scenes" section is determined by the Stripboard. If you intend on shooting a single scene across multiple days, you can Duplicate that scene in the Stripboard. Note that if a Character Number is assigned to a Character, the number will populate in the Cast Column, which can be referenced against the "Cast List".
Cast List
The Cast List is determined by which scenes are scheduled for that shoot day. Like crew, they may have specific call times, which you can stipulate here – along with Hair, Make Up, and Wardrobe (HMW) Times, Blocking Times, and Shoot Times. A cast member's Working Days (Start Work-Finish status) is also included here – which is determined by whether or not they have been scheduled for prior and/or additional shoot days.
Characters can be removed from the cast list by selecting "hide characters" from the scene's strip in the Stripboard.
Advance Team
If you have a multi-day shoot already scheduled, the "Advance" section will provide a preview of which scenes are planned for the next scheduled shoot day.
Partially-automated Data
This information requires you to select exist or input new data about your company, cast, and crew. Once the new data is saved, it can be applied to other call sheets and other elements within the same call sheet.
Executive Team
Key team members, such as Executive Producers and Directors, get a special place on the Call Sheet. With the exception of Episodic Productions, these will likely remain the same across Call Sheets, so adding them to the template is suggested. These names can be reordered by dragging and dropping them in descending order.
Crew Grid
The Crew Grid is initially blank unless the Template is populated. If you have used the Cast & Crew to add crew via the "Crew" Category, these entries will be available to select from "Existing Crew". Otherwise, include a crew member's Name, Job Title, Department, and contact information then click "Add". Specific call times can also be stipulated here – otherwise, it's assumed that they will adhere to the default call time stated in the Call Time section.
You can also edit an existing crew member's information directly from this menu. Note that these edits will save to the Cast & Crew entry of that crewperson.
Crew within a department are arranged by the order they are "selected"; these names can be reordered by dragging and dropping them in descending order. Departments themselves can be rearranged by clicking "Reorder Grid" on the main Call Sheet view.
Contact List
The Contact List functions similar to the Crew Grid. You can select any crew previously created in the Cast & Crew or Crew Grid and add them to the Contact List. These names can be reordered by dragging and dropping them in descending order as well.
Manually-populated Data
Manually-populated data only is typed into a given field is not available to be retrieved for other elements or future call sheets.
Weather & Daylight
This information can be updated manually to include the important information about the weather for your shooting days.
Production Details
Production Details convey the contact details of your production company. Given these are unlikely to change, they are ideal candidates to be included in the templates.
Basecamp
Basecamp information relays important information to crew, such as where to park and the nearest hospital.
Crew Call
Crew Call times stipulate "default" times for important periods of the day, such as call time, breakfast, lunch, and end of day. Values included in these fields will not populate into everyone's individual call times found in the Cast and Crew Grid – it's assumed that this is the call time for those whose call time is not otherwise stated in their respective Grid.
Crew Notes
Crew Notes contain messages for everyone on set. To add a Crew Note, simply write one out and click "Add". Once added, notes can be revised by clicking and editing the text.
Transport Notes
Transport Notes are essential to ensure cast and crew are in the right place at the right time. You can stipulate ground transport and even airport runs. Need to sort out who is transporting whom? Add a department note to further clarify transport logistics.
Department Notes
Notes specifically directed to a given department are features in the Department Notes section. This is a great place for reminders or to refer to other department-specific documents, resources, or directives of less concern to the cast and crew as a whole.
Episodic Productions
Episodic productions uses a Master Production Schedule, so they're capable of scheduling scenes from multiple episodes in a single shoot day – great for block shooting. As such, the Scene List of Episodic Call Sheets will include an "Episode" column in the Scenes List.
Multi-Unit Scheduling
If your subscription includes Multiple Units, you can assign a unit to a given scene in your menu. Once these units have been assigned to scenes, you can filter what information is included in a call sheet by which units have been assigned to them.
Distribute via Email
Getting your Call Sheets out to your Cast and Crew is easy with the Distribution tool. Any email addresses associated with Cast and Crew Members in your call sheet will be automatically selected for the distribution list. This list can be edited by clicking on it.
Note you can add others to this list, by completing the Name and Email Address fields, then clicking "Add".
Your cast, crew, and other contacts will receive a PDF directly to either email – no login required.
Print or Generate PDF
Call sheets can be previewed and generated by clicking the Print/PDF Preview button. Call Sheets are rendered in industry-standard formatting and can be directly printed or downloaded from this menu.
Exporting Call Sheets
Call Sheets can be exported to Google Sheets. While this will require some knowledge of Sheets to refine the output manually, it may be of use if you would like to add additional customization to your call sheets (though feel free to email support@celtx.com to request any features and functionality that you would like to see developed).
Call Sheet Management
Every call sheet that you created is saved in the Call Sheet's main view. From here you can refresh or delete call sheets, as well as review their status.
Refresh
Clicking Refresh will pull the most up-to-date data from your Calendar, Breakdown, Script, Catalog and Cast & Crew into the Call Sheet.
Trash
Clicking 'Trash' will delete your Call Sheet.
Status
Once you've Distributed a call sheet, you can view the version that was sent out – even if you have since refreshed or updated the working document.
NOTE: If you would like to change the location data (temperature and windspeed) from imperial to metric, this can be accomplished from the Online Studio's Settings page.