"A writer needs a pen, an artist needs a brush, but a filmmaker needs an army."
― Orson Wells
Celtx's Cast & Crew library tracks every detail of your production's cast, crew, and vendors. Not only a place to store details, like contact information and availability dates, Cast & Crew integrates seamlessly across your entire Project – including your Breakdown, Budget, Schedule, Reports, and Call Sheets. A change in one will be instantly updated in all: preventing costly errors while accelerating your production's overall workflow.
Layout
Those familiar with the catalog tool will be at home with the layout of Cast & Crew: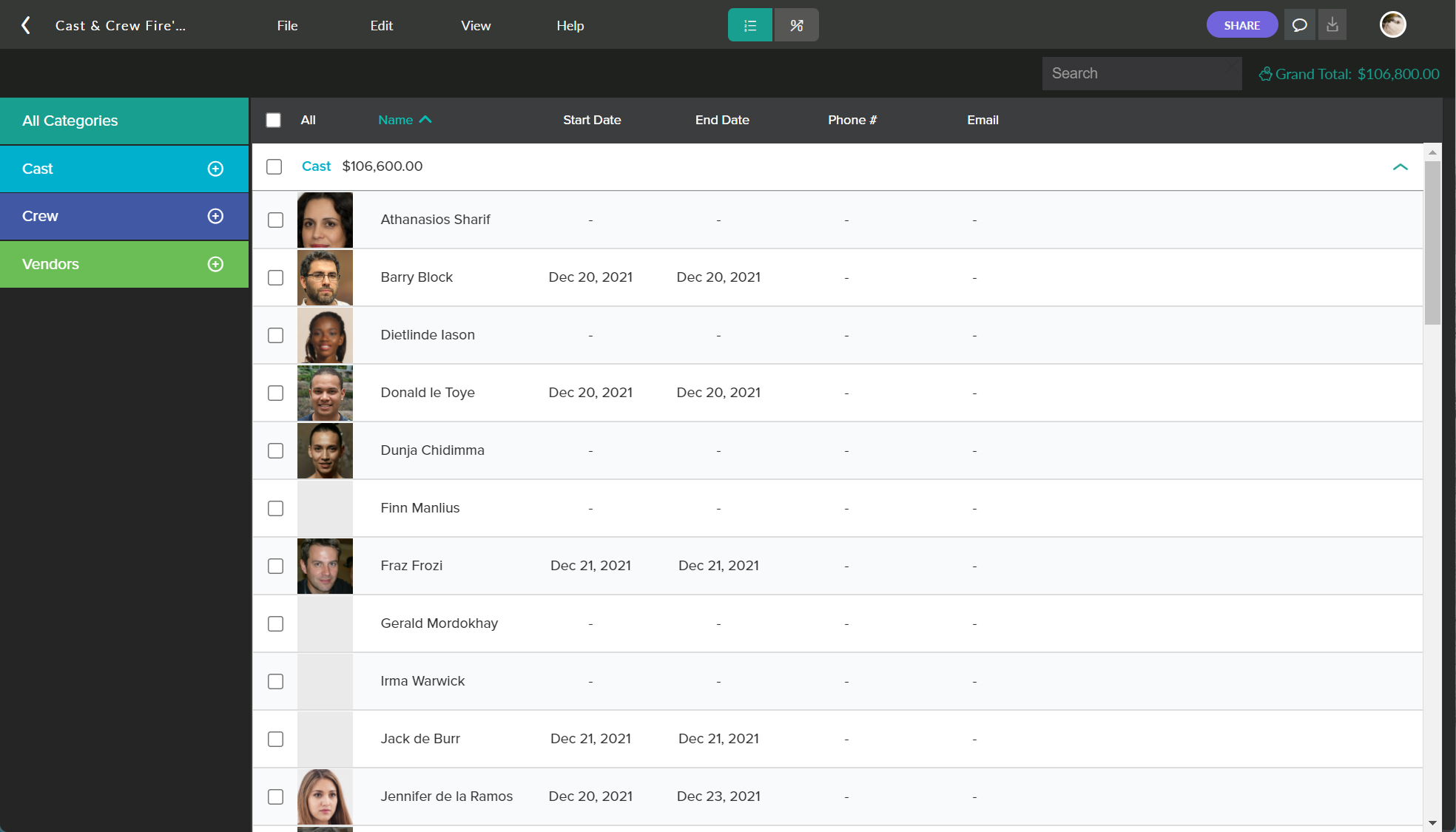 Cast & Crew is divided into three main categories–Cast, Crew, and Vendors–which are further divided into specific sub-categories or departments. These categories can be selected from the left-hand menu.
Depending on the active view, the main columns display the most important information for each. In the above image, the "Actor" category is selected, which contains details such as Headshots, Roles, and Start and End Dates.
The Cast & Crew library features its own Budget View, which can be accessed via the "View" menu.
Building a Cast & Crew library
Cast & Crew items can be added in a few ways.
Add Cast & Crew
Selecting "File" and "Add Cast & Crew" will allow you to add items at any point while you are in the document. Selecting the ⊕ button from the category menu will pre-select the category for that item, further accelerating your workflow.
Played By (via Catalog Details)
For the Catalog item types "Principal"/ "Actor", "Stunt Performer", and "Background Performer", Existing Cast can be associated with "Character", "Stunt", and "Extras" respectively. If a cast member has not yet been added to your Cast & Crew library, they can be added via the "Played By" field.
Import Cast & Crew
Like the Catalog, Cast & Crew features an import function. You can import items from any existing Celtx Projects of which you are the owner or are a collaborator.
Cast & Crew Details
Depending on the category, Cast & Crew items contain specific fields to manage your data. To view or edit a given entry, click on it from the column view.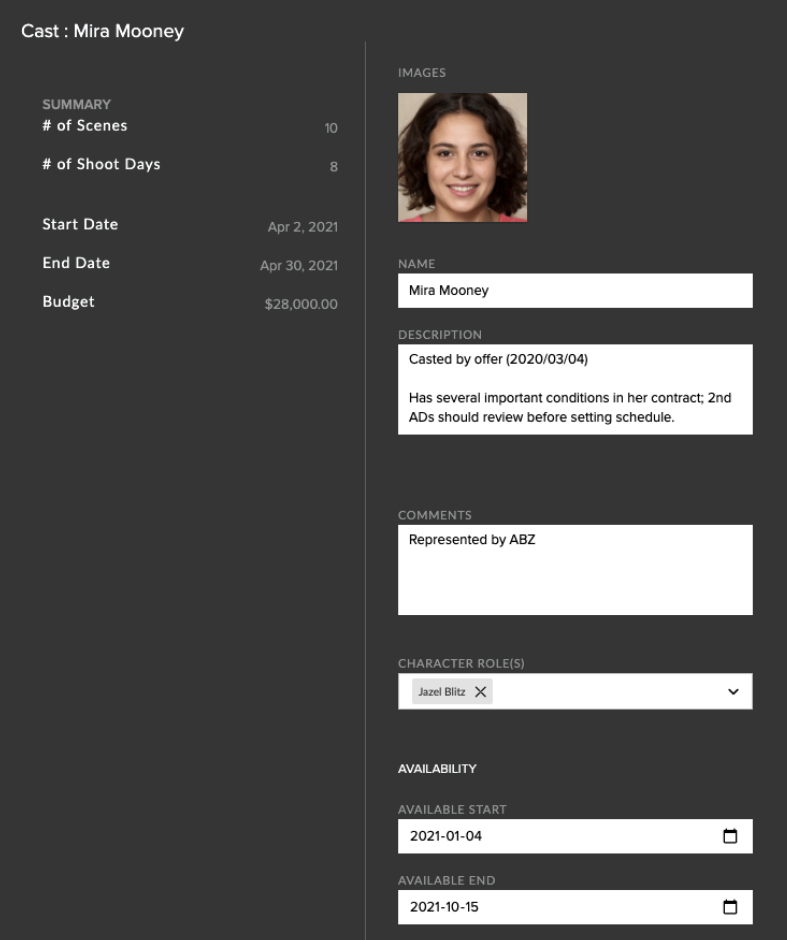 Cast
The summary section is populated with data supplied across your entire Project: "# of Scenes" is populated by the Script and Breakdown, Start and End date from the Schedule, and Budget from the Project Budget.
Character Role(s)
Specific to the "Cast" category is the "Character Role(s)" field. This field pulls from all the Characters tagged in your script via the Breakdown, as well as any that are added via the Catalog. This will be reflected in the Schedule, Reports, and Call Sheets.
A parallel field, "Played By" is available in the Character and Extra asset type in the Catalog Detail view.
Crew
Crew items contain many of the same fields as Cast items, and contain a Crew-only "Department" section.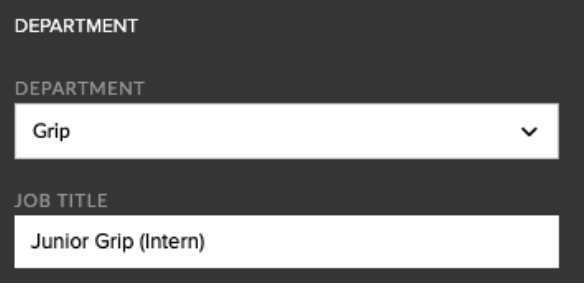 Department
Departments can be selected from a preexisting list or can be added to your Projects Department list by typing its name into the field. This department will be available across your project, including in Call Sheets and Reports. Similarly, departments added via the Call Sheet's "Crew Grid" or "Contact List" will be available in Cast & Crew
Job Title
Job Title is a text field available to all crew items. This field will populate in Call Sheets and other production reports. It can also be edited via the Crew Crew dialog of Call Sheets, and those changes will be reflected throughout your Studio.
Vendors
The Vendor category is special in Cast & Crew in that it will not affect your call sheets in any way. However, you can add related tags to the Breakdown. For example, you can tag a "Security" asset in the script breakdown, and add the vendor responsible for that in the description of that asset.
Questions
I can no longer add Actors to my Breakdown? Why?
Previously, any category available in the "Catalog" was available in the Breakdown. However, conventionally speaking, human assets are not commonly tagged for the purposes of breakdown reporting. Tagging a Character, and associating that Character with a performer, is the preferred method – as that allows for changes to casting to be made in the Cast & Crew directly, instead of having to edit within the script Breakdown.
Why can't I find Cast and Crew in my Episodic Project?
Unlike the video shown above where Cast and Crew appears in the Plan section next to the Catalog for a single script project, in Episodic projects Cast and Crew appears in the Master Files section with your Master Catalog and Schedule.
How do I add Background Performers to my Breakdown?
Similar to Actors or Principals, Background Performers should be associated via with the Category "Extras", in the field "Character Roles".
How do I add custom departments?
To Add a custom department, type the name of that department into the "Department" field of any given Cast member in the Cast details section. That department will be available going forward in all Department related top-level and dropdown menus.