Breakdown mode lets you easily identify and describe the people, places, and things in each scene of your Screenplay, Stageplay, or AV Script. Assets that are created using breakdown mode are added to your Catalog. Assets in your Catalog can be further enriched with additional details, media, and budgetary information as well as adding an actor from Cast & Crew.
Breaking down your script is the first step in unleashing some of Celtx's most dynamic features and tools – such as the Catalog, Cast & Crew, Budget, Schedule, and Reports. For example, wardrobe requirements of a given shoot date and location can be tracked as a Day-out-of-Days Report – and will update automatically as the script or schedule is revised.
This article provides a basic overview of how to use breakdown mode. If you would like to learn how the breakdown mode can help develop your story and organize your production, read Script Breakdown, A How-To Video Tutorial with Templates.

Using Breakdown Mode
Opening Breakdown Mode
Tagging & Adding Untagged Assets
Editing Details of Assets
Copying, Pasting and Removing Assets
Breakdown Tips & Best Practices

Additional Features
Scene Summary
Breakdown Settings
Dramatic Days
Flashbacks
Breakdown Report
Shareable Link
Breakdown Mode and Schedule & Reports

Opening Breakdown Mode
Breakdown mode is accessed by selecting "Breakdown" from the Righthand Sidebar in the Screenplay, Stageplay, or AV Script Editor.
Tagging Assets & Adding Untagged Assets
In breakdown mode, assets can be added in two different ways:
Tagging Assets – (highlighting a word or phrase):
Highlight any word, or words, within a scene to associate that text with an asset. Tagging performs two actions
Associate a tag with an existing asset. Do this by selecting that asset's department from the Department dropdown menu, then selecting it under the "Existing Assets" list.

C

reate a new asset. Do this b

y typing the name of that asset into the asset field; by default the name of the asset with be the words selected while tagging – but you can change that by altering the text in that field.
Adding (clicking "Add" in the Breakdown Menu):
If an asset is not represented in the text of the scene (for example, a character without dialogue), you can include it using the "+" button found on the Righthand Sidebar.
Adding Assets has the serves the same function as tagging (#2 above) but it will not associate itself with a specific line of text in your script. This is useful when you need to include Assets within your Breakdown that are not evident in body of the script (for example, a piece of equipment or a Character not explicitly mentioned within that scene).
Editing Details of Assets
Existing assets are represented by Category in the Righthand Sidebar. Coloured text also represents assets within the script itself, with each category assigned its own colour of text.
To edit an asset's Category and name, click the coloured text; confirm the changes by clicking outside the Breakdown prompt.
To edit an asset's additional details, click on it in the Righthand Sidebar to edit it in the Catalog.
Note: some asset Categories – such a crew, actor, character, and location – have unique detail fields. These details can be viewed and edited in the Catalog and/or Cast & Crew.
Copying, Pasting and Removing Assets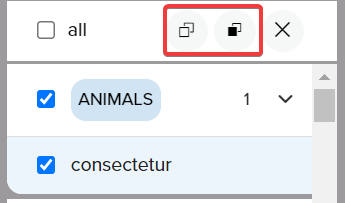 Assets can be copied from one scene to another. To do this, select the checkbox next to the asset, and use the Copy and Paste feature, found in the Righthand Sidebar.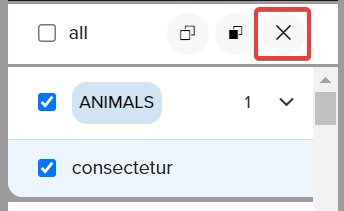 To remove an asset from a scene, select the checkbox of the asset(s) you wish to remove and click Delete.
When you have a Location added as an asset, make sure to fill in the address information. This will automatically transfer over to the Catalog entry and will help with the weather information in the Call Sheet.

Important: removing a tag and removing an asset are separate actions. If you remove a tag from the script, the associated Asset will remain within your breakdown. Depending on the Asset type, this means that untagged Assets will still populate in production documents such as Breakdown Reports, Schedule, and Call Sheets.
Scene Summary
Use the Scene Summary field, found under each scene in the Righthand Sidebar, to add a summary.
This scene summary will 'follow' the scene throughout a number of Celtx production documents, including the Stripboard and the Breakdown Sheet (found within your Schedule and Reports).
Breakdown Settings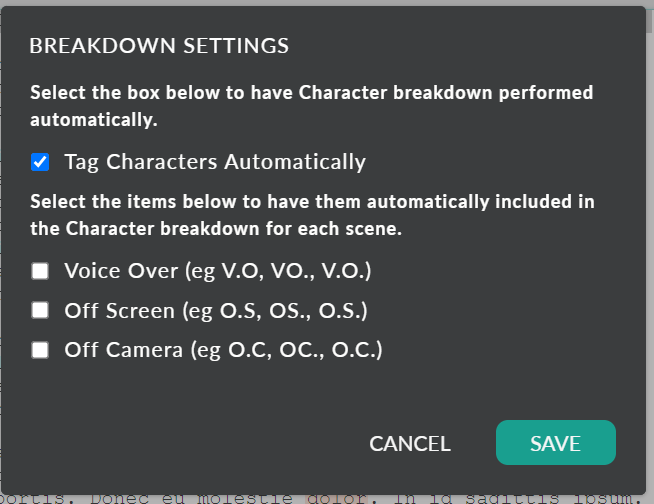 Breakdown Settings can be accessed by clicking the gear icon found on the Righthand Sidebar, or under "File" in the top menu. From here, you can adjust how certain Character assets, such as Off-Screen performers, will or will not automatically generate when they are created during the (normal) Script Editor mode.
NOTE: By default the Tag Characters Automatically is active. With this setting active it will tag all characters in the script and they will automatically add to the Catalog. However, if changes are made to the script, any characters previously removed from the Catalog will get readded.
Dramatic Days
If your script's story occurs over several days, use the Dramatic Days field to help manage plot and production continuity. Simply assign each scene a dramatic day number. This number will stay assigned to the scene, even if that scene is eventually moved.
Flashbacks
Flashbacks can be shown or hidden within breakdown mode by accessing the "Managing Flashbacks", found under the File menu. This can be used in conjunction with Dramatic Days to ensure continuity in Flashback scenes.
Breakdown Report

The Breakdown Report is a detailed overview of all assets that have been tagged or added to each scene in your script. It can be accessed by clicking the Report Icon on the top menu bar while in breakdown mode.
Additionally, selecting "Print" while in breakdown mode allows you to either print or download a PDF of the breakdown report.
Shareable Link
Many Celtx documents are immediately shareable, with read-only permissions, as Shareable Links. Create a temporary web address for your script's breakdown mode view and its Breakdown Report by clicking "Create Link" under the File dropdown menu.
Breakdown Mode and Schedule & Reports
The Breakdown integrates into many aspects of the Schedule & Reports. On the Schedule's Stripboard, characters found in each scene will appear in the Character column.
In the Reports section, all breakdown assets tagged in each scene are compiled, according to shoot day, in the Breakdown Sheet.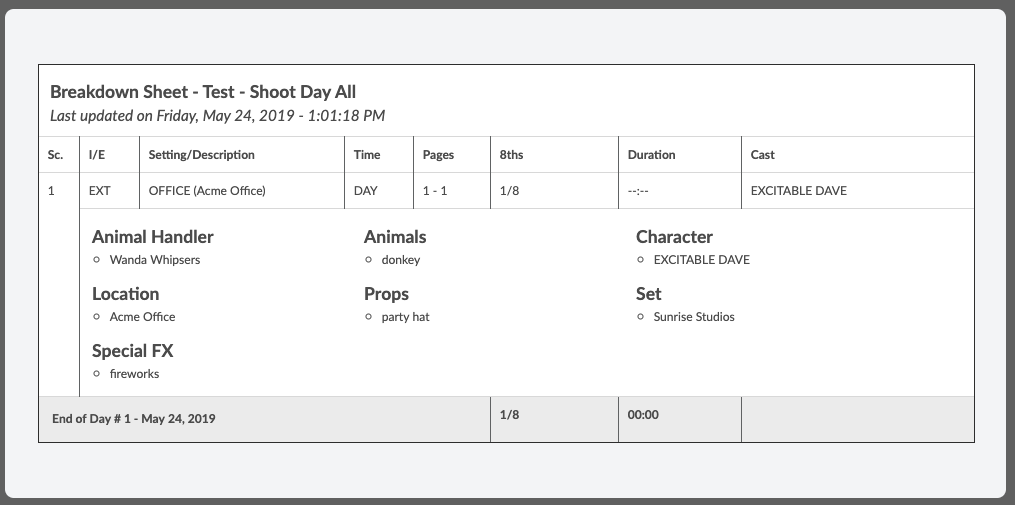 Also in the Reports section, a Day-Out-of-Days Report can be generated of assets, based on each Breakdown/Catalog/Cast & Crew category.
Breakdown Tips & Best Practices
Think of the breakdown mode as a companion of the Catalog. They both are involved with managing your assets, but they each have their own special abilities. While the Catalog and/or Cast & Crew View allows you to add more detail to an asset, the breakdown mode allows you to quickly tag and edit an asset within specific scenes of your script.
If you are adding any crew or non-character talent to a scene, it is best to categorize them as "Crew" instead of by specific department. This will help with both call sheet creation and contact management. This will also create them in the Cast & Crew module.
To quickly select a category from the breakdown prompt, type the first few letters of the category's name. You can also switch quickly between the text fields and buttons by using the Tab and Shift+Tab keys.
Imported scripts occasionally contain text elements that create "false positives" for the Automatic Character Breakdown feature. See our article on Importing Scripts for tips on how to prevent this and other anomalies caused by initial script formatting.