Whether you're writing your script, planning your production, or are well into your principal photography, chances are you're not doing it alone. Celtx makes sharing easy, specific, and in real time.
Whenever you Share a project with a colleague, Celtx will send them an email indicating that you are inviting them to collaborate on that project with you.
When you Share a project with a user with an existing Celtx account, the project will automatically appear in their list of projects within their own Studio, and they'll be able to begin collaborating, depending on the permissions that were assigned.
If the user does not have an existing account, they will first be invited to set up their own Celtx Studio before they can begin collaborating.
Please Note:
Sharing is available to all plans, while setting permissions is a feature available to subscription levels. This article discusses individual subscription plans. If you are a subscribed to a Professional or Education plan, please contact your Account Specialist regarding the permissions schema of your plan.
| | |
| --- | --- |
| Sharing your Project | |
| To share a Project, click the "Share" button, found within the Studio, Project, and Document views. | |
| | |
| --- | --- |
| Click the Share button to the "Sharing Dialog" | |
To invite new collaborators, add one or more comma separated email addresses in the email field. Collaborators who are already in your collaborators list can be added by typing a portion of their email address or name and selecting them from the suggestions, each will be added beneath the email field.

You can also add a message, which will be sent to all collaborators you've just added to the project.
Once you have confirmed the email address, set the collaborators' permissions. Click "Share" to send them an invitation email.
Setting Permissions
Project Owners have the ability to set permissions for anyone they invite to their Project. Click the 'Wrench' icon to the right of the Email field to select from a list of predefined permissions:
Predefined Permissions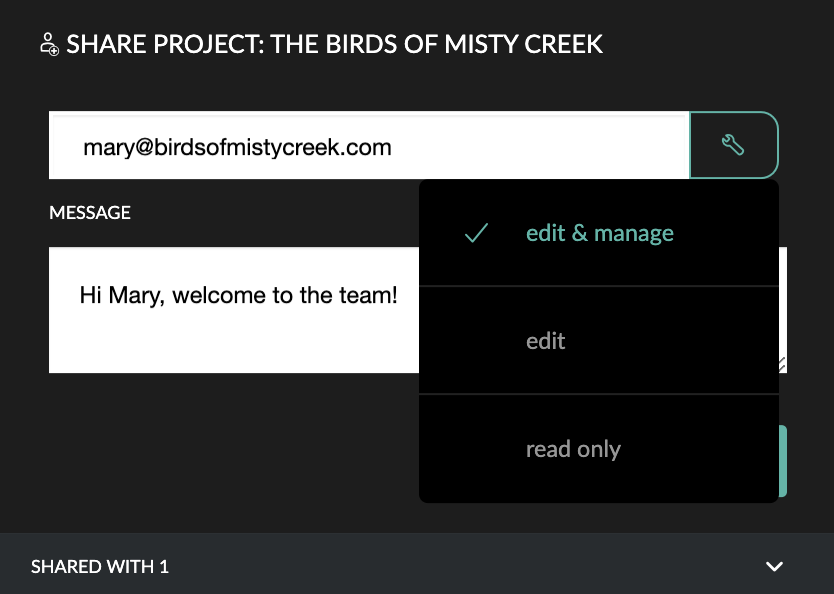 | | |
| --- | --- |
| Edit & Manage | Edit all documents, set (non-owner) permissions, and invite & remove collaborators |
| Edit | Edit all documents |
| Read Only | Read, but not edit, all documents. |

Granular Permissions
Once an email has been confirmed in the Email field by pressing 'Enter' or 'Comma', it will appear below the Email field. You can further set this collaborator's permissions by clicking on the 'Key' icon next to their email address. These permissions can be set before an invite is sent, and adjusted at any point during the project.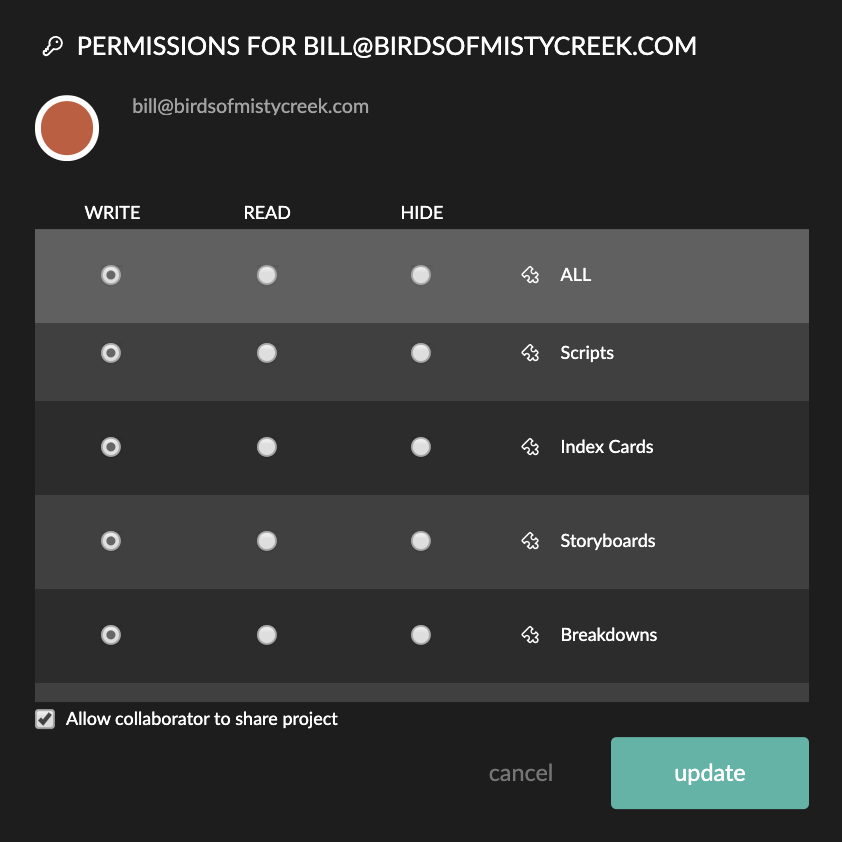 These work similarly to the predefined permissions list, but at the Document-type level. Another difference is the ability to "Hide" a given document-type from a user.
Note that collaborators without full "Write" permissions will be unable to possess "Manage" permissions, nor will they be able to invite outside collaborators to join the project.
Adjusting Permissions
Collaborators' permissions can be adjusted at any point during the project. To do so, click the "Key" icon next to the collaborator's name in either the Project View sidebar or in the Sharing Dialogue's "Sharing Management" dropdown menu.
Sharing Management Dropdown Menu
The Sharing Management dropdown menu is located on the bottom of the Sharing Dialog.
It lists the collaborators of a project, as well as those who have been invited but have not yet created a Celtx account, a status known as "Pending". You can resend their invite email by clicking the "Resend" button next to their name. Existing Celtx users are added to Projects automatically, without the need to accept an invitation.
The Sharing Management Dropdown menu also allows you to remove collaborators from your project, as well as adjust their permissions.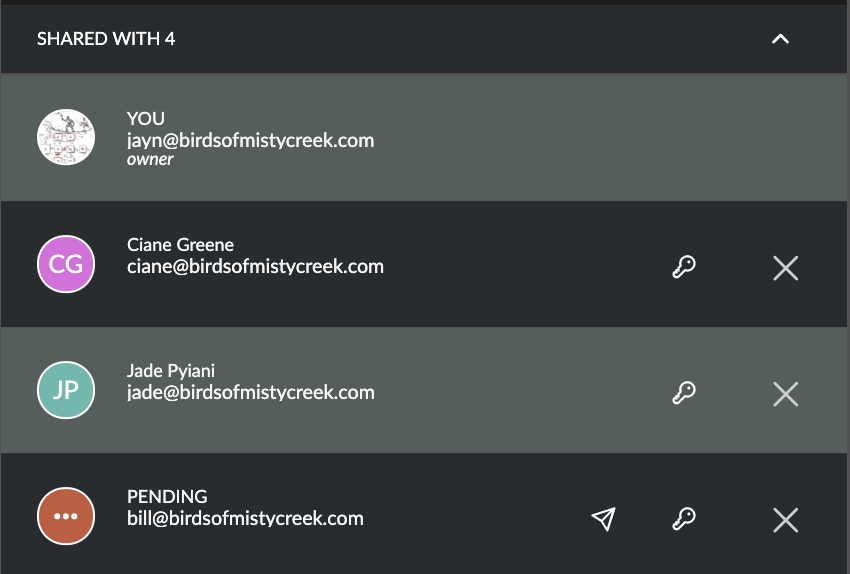 Removing a Collaborator from a Project
To remove a collaborator from a Project, simply click the X next to their name in the Sharing Management dropdown menu, and confirm your selection. Documents, such as Sides, that removed collaborators have contributed to the project will remain in the Project's "Additional Files" section.
Removing a Paid Collaborator from your Subscription
If you are looking to remove a paid collaborator from your account, please see the article on how to Add and Remove Paid Collaborators.
Managing Permissions of Collaborators across varying Plans
Regardless of subscription type, all Celtx users – even those on free, basic plans – can collaborate on a shared Project.
However, a user's ability to edit a given document type or make use of a given feature is determined by their individual subscription type. For example, if a Project Owner on a free, basic plan invites a subscribed collaborator to their Project – that collaborator has edit permissions for documents and can use features unavailable to the Project Owner.
Subscribed Project Owners can, however, set granular permissions of their Project document types that they themselves do not edit access to. This can be performed in the manner outlined above.
Leaving a Project
To leave a project that you have been invited to, simply move that Project to the Trash. This will not affect anyone else's experience of the Project. To move the project to the Trash, select the Project from your Studio view and click the "Trash" icon. Note that you cannot reverse this action; you will have to be re-invited by collaborator with invite privileges to rejoin the project.