In Celtx, a 'Paid Studio Collaborator' is a user whose subscription is paid for by another user. Collaborator 'seats' can be added and removed from your subscription at any time.
Add a Paid Studio Collaborator as a Subscribed User
To add a collaborator select "Management" and then "Plan". Some contacts that you have Shared on at least one project within your Studio that you "own" (i.e. that you've created) will appear for you to choose from, or you can add an email address manually.
Each potential collaborator is eligible to be added to your plan free for the first 7 days! Simply click "Add" next to their name, and confirm the subscription update.
Each collaborator is eligible to be added one time for a free 7 day period. After the first 7 days you will be billed per collaborator, pro-rated to your billing cycle. You can remove any or all before that time to avoid being billed.
If a collaborator has already had a free 7 day period and was removed from your plan, you can add them back as a paid collaborator at anytime. Charges for this collaborator will begin as of the date they are added.
Here is an example of how those options will look on your Studio Management Plan Page: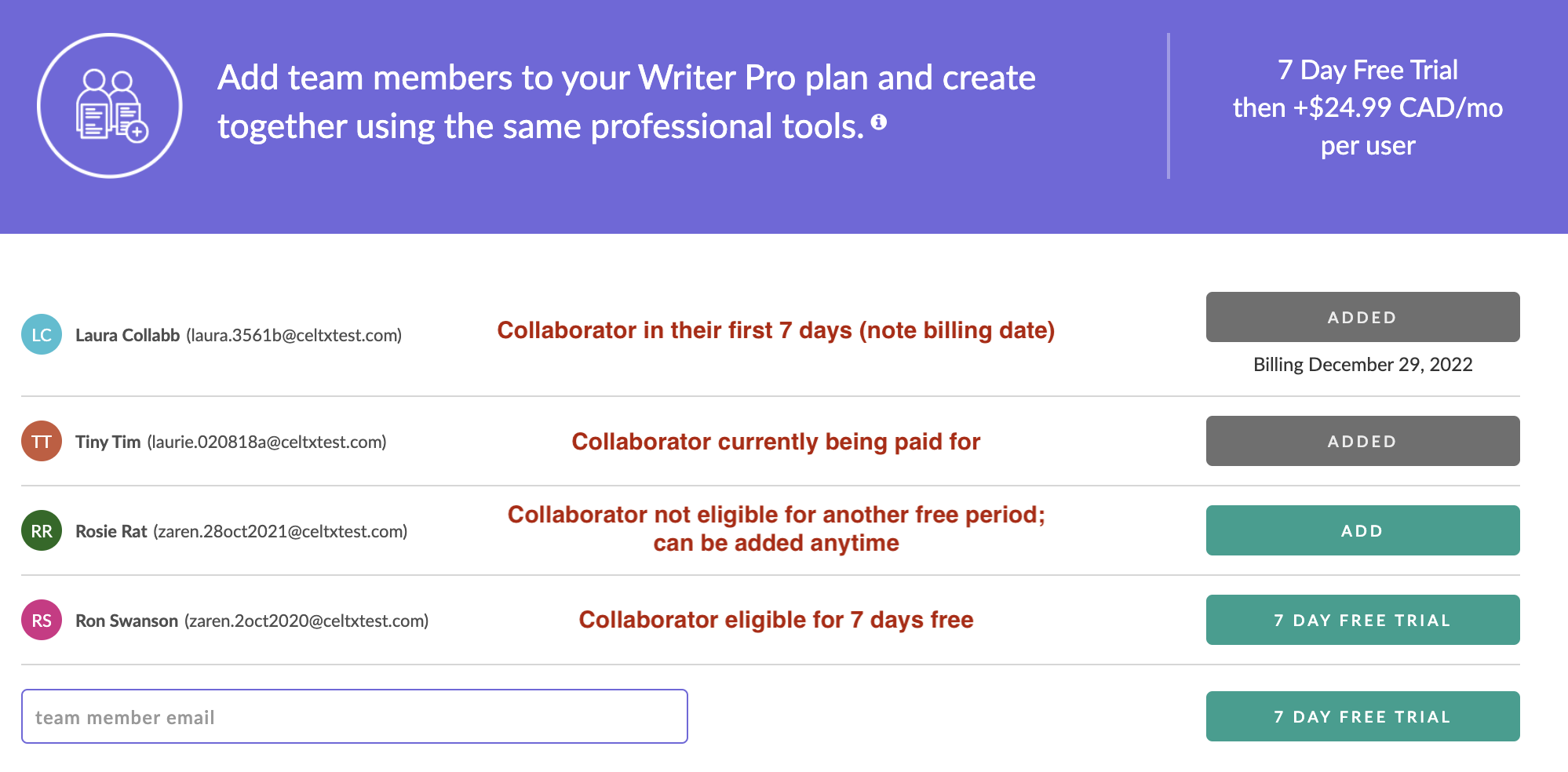 Add a Paid Studio Collaborator as a Free User
If you are currently a free user, you can select your collaborators once you've selected your plan, and completed your subscription. You can then add collaborators immediately or at any time during your subscription. Learn more about how to subscribe here.
Remove a Paid Studio Collaborator
Note that "Un-sharing" collaborators from all your projects does not remove them as a paid studio collaborator.
To remove a collaborator from your subscription, click "Management" and then "Plan". You will see all the paid collaborators on your subscription here. To remove a paid collaborator, hover over the 'Studio Collaborator' button:

Notice it gives the option to 'Remove':

Select and confirm. They will be immediately removed from your subscription.
If you would also like to remove them from your Projects, consult the article on Sharing and Permissions.
Collaborator Subscription Type
When you add a paid studio collaborator, they receive the same subscription-type as you. If you change or cancel your subscription, this too will apply to any paid studio collaborators on your account.
How do I add Paid Studio Collaborators to the Team Plan?
The Team plan includes you and up to four (4) additional studio collaborators that are included in the base price of your Team plan. If you work with several people consistently, whether the same people all the time or a rotating crew of collaborators, you can self-manage who on your team will be a part of your subscription at any given time.
How do I add Students to the Classroom Plan?
For more information on managing your Classroom plan, please review detailed information in this article.