Sometimes you need to start fresh. If you find yourself in a position where you'd like to take a script from an existing Celtx project and use it to create a new project, we've got you covered.
Open your existing project and click the upper left menu of the script card.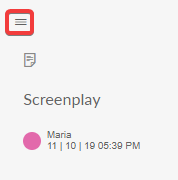 Select 'Create Project'. This will create a new project based around the existing script.
You can also create a new project from one of the scripts in the Files & Documents section of your project. Click the menu next to the script and select 'Create Project'.