Whether you're scripting your next post for social media or producing the next award-winning documentary, Celtx's Multi-Column AV Editor is purpose-designed to help you write, plan, and shoot your video projects.
Multi-Column AV Scripts are organized into "Shots", each made up of three columns: Video, Audio, and Image. Shots also contain a "Shot Details" section, which include fields to specify production specs, such as equipment, angles, and lenses: everything you need to plan out your production and communicate that plan with your team.

Table of Contents

Creating a Multi-Column AV Project
From the Studio View, click "New Project" and select "Multi-Column AV". As with Film & TV, these projects can be single script or episodic productions.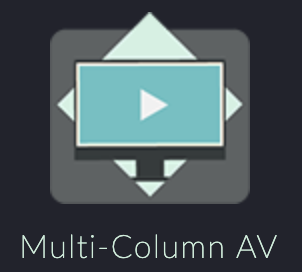 Multi-Column AV Editor Views
This article is about the Multi-Column Script Editor, which is one of three project-specific views: the Script, the Storyboard, and the Slideshow. Each View is designed to help you write, plan, and shoot your project. Views can be selected from the Project page or quickly switched between within the Editor via the top 'View' buttons.

Multi-Column AV Script Editor
There are two main components to the Multi-Column AV Script Editor: the Script Header, made up of fields, and Shots, made up of Columns, Shot Details, and Shot Settings.
Script Header
The Script header contains script-wide information, such as the Title, Production Company, and Version.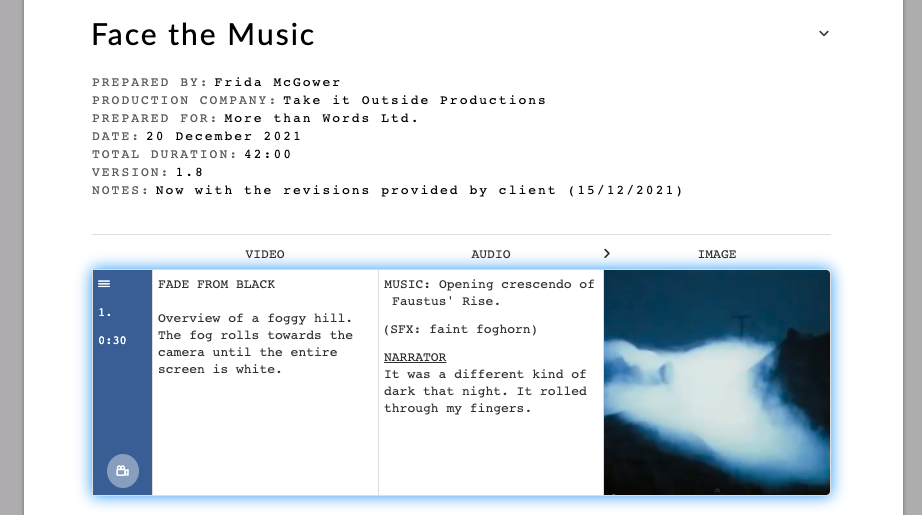 All of these fields are editable with the exception of 'Total Duration' which is the sum of the duration values contained within each shot. This 'Total Duration' field will change as you add a duration to each shot. The Header can be shown or collapsed by clicking the arrow to its right.
Shots
Shots are the primary building blocks of Multi-Column AV. The left column contains information on the Video component, the middle column contains information on the Audio component, and the right column contains a reference image.

In addition to the three columns, a shot's Spine (it's left-most section) contains a settings menu, shot number, and shot duration – as well as an option to show or hide Shot Details.
Shot Text Elements
The Video column has a single text element type: "Shot". Typically this is an unbroken line of text, but if line breaks are preferred, 'Ctrl' while hitting 'Enter' will force a line break.


The Audio column can be populated by a variety of text elements, including character, dialogue, music, and SFX (sound effects).
Text Elements can be selected via the dropdown menu on the toolbar, by striking their shortcut key, or by the default key flow designations that occur once 'Enter' is struck within an element.
Shot Image
A Shot's image displays in the right column. This column can be shown or hidden at the script-wide level by clicking the horizontal arrow to the right of the 'Audio' Column.
To add, replace, or remove an Image, click the Image Element. Images can be added from your local device, your Project's Image Library, or directly from the web search tool within the Image selector.
Shot Details
The specifics are contained within its' 'Shot Details'. An entire script's Shot Details can be revealed or concealed by clicking 'View' and selecting 'Show/Hide All Shot Details'. To view or hide a given Shot's details, click the camera icon on the settings bar of a Shot.

Shot Details contain eleven fields. For most, you can select one or more options by choosing items within it's dropdown menu. You can also create custom selections – which will be available to all shots thereafter – by typing within the field and hitting 'Enter'. To dismiss a selection, simply click the 'X' on the selection's tag:
Shot Options
Each Shot has an Options Menu (), represented by three horizontal lines in the top portion of the settings bar.

Here you can duplicate or delete a shot, as well as set the shot's colour and expected duration.
Tips & Best Practices
Looking for a way to move your Shots? This is done one of two ways: in the Editor, click 'Navigation' and drag the shots to reorder them; similarly, in Storyboard View, drag and drop the shots to reorder them.
Aspect ratio for all Shots is 16:9. The Storyboard and the Shot List images display as such. The "Image" column of the script displays a 1:1 preview. It's recommend you upload 16:9 images. However, if uploaded images are not 16:9, the editor will approximate the best fit, and display this instead.
Looking to print or download your script? You can do this by clicking 'File' and selecting "Print/Download PDF". Note that Print defaults to a "What you See is What you Get" (WYSIWYG) printout of your script, with hyphens enabled, but this can be adjusted in the PDF settings dialog.
There is no "right" way to go about writing your scripts. If you are going for a more "image first" approach, consider starting with the Storyboard, while a more "script-heavy" approach benefits from the Script View.
If you're experiencing small variations in Shot borders, check if your browser zoom is set to 100%. Border variations will not affect your print output, though – so if it helps, go for it!
As with other Celtx projects, Multi-Column AV integrates with Planning & Shooting tools and documents. For more information on these, search the Help Centre for more details.