To Print or export a PDF of your scripts and other documents, select the 'Print/Download PDF' from the File menu. This will open the print menu.
From here, you can customize your print options before using the "Download" button to save a PDF copy of your content. 
* Note that some options are only available within specific plans. You can see your plan features and options anytime under 'Management' > 'Plan'.
Print the Following
Script Only
Prints just the script, without footnotes or Title Page.
Script & Title Page
Prints the script and the title page, without footnotes.
Scene List

Adds a list of scene headings numbered in chronological order, along with their corresponding page position.
* Available with any paid plan.  


Characters

Adds a list of characters (with associated dialogue) in order of appearance, along with number of dialogue lines they have, and in which scene they first appear.
* Available with any paid plan.

Script with Footnotes

Adds Script Notes as footnotes to pages, with color-coded icons at the corresponding page position.
*Please note, in July 2020 the Notes feature was replaced with Comments.


Script with Color Revisions
If your script is in Revision Mode, this option adds color-coded indicators for all revised script content. Your edits will appear in industry-standard colour on the screen. When you print that edited script, each changed lined will have an asterisk on either side to make them easy to spot.
* Available with select paid plans.

Current Revisions Only
If you have used Revision Mode, this option selects only those pages affected by your most recent revisions.
* Available with select paid plans.


Watermarks
To add a watermark, check 'Show Watermark' and enter your text in the space provided. This will add your watermark to each page of your printout / PDF (title page excluded).
* Available with select paid plans.

Lines between Scenes
You can insert additional lines between scenes and a page break after each scene.
These are helpful options that create more 'white space' on the page so you can more easily add handwritten notes to your printout.
Note that these changes only apply to the current printout, do not affect the studio version of the script, and result in page count variations to between your printout and the original script. You can review the preview panel to see the effects of these changes.
Simplified Printing Dialog
Some scripts, most commonly those featuring characters outside of the Latin alphabet, will be processed through the Simplified Printing Dialog: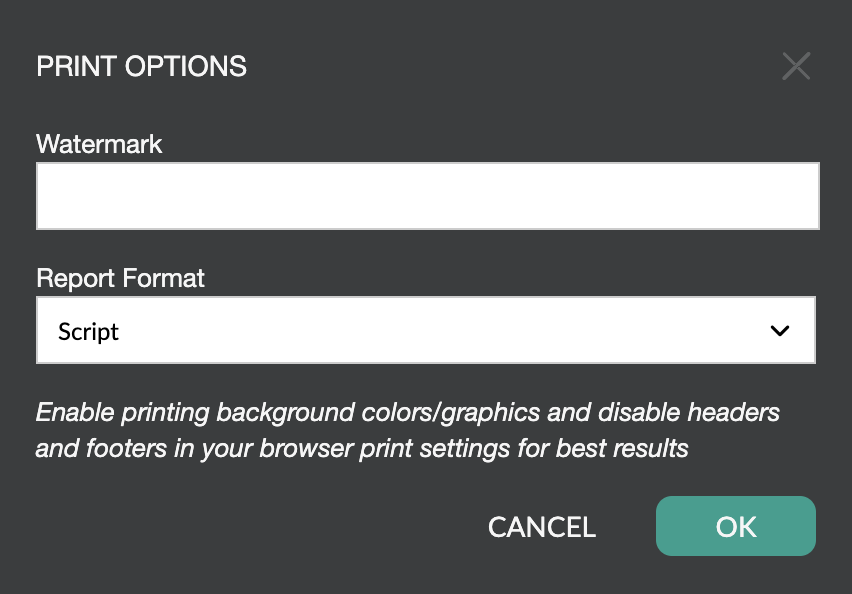 This dialog prepares your script to be printed according to your browser's built-in printing functions. Printing in this manner may require adjustments to headers & footers and page count (best to deselect them for the print options), page type, margins, and scale – depending on the settings predefined by your browser and printer.

| | | |
| --- | --- | --- |
| Browser | Adjust Details | Create PDF |
| Chrome | Click 'More Options' | Destination: 'Save as PDF' |
| Firefox | Click 'Show Details' | PDF dropdown menu: Save as PDF |
| Safari | Click 'Show Details' | PDF dropdown menu: Save as PDF |

Occasionally, you may receive this dialog for a script not featuring non-Latin languages or non-standard symbols. If so, see our Importing – Tips & Best Practices article. Review the print preview for anomalous characters, replace them with manual keystrokes, and reopen the print dialog. If this does not remedy your issue, please submit a support request below, and we'll get you up and running in no time.
Printing Certain Pages
At times as well, you may be required to print certain pages in your script. You can do that in Celtx by the following process: 
Click 'File' -> 'Print/Download PDF'

Choose 'Print Preview'

The next step is Browser specific

If using Chrome or firefox, click the Printer icon in the upper right corner of the script preview


Then, choose 'Save as PDF' as your print option. Then select 'Custom' under Pages, entering in the desired range and save/ok to finish up. 



If using Safari, press "command+p" to bring up the print page. From there choose your page range and then, from the dropdown options, choose save as PDF to create a PDF file .