This feature is available for Film & TV scripts only.
Revision mode is a tool you use once your script is in production (or darn close). The purpose of it is to lock a Film & TV script during production; so Scene 1 remains Scene 1 and Scene 100 remains Scene 100, regardless of whether you added or deleted a few scenes in between.
Once you're ready to use revision mode, just click the Edit menu and choose Revision Mode.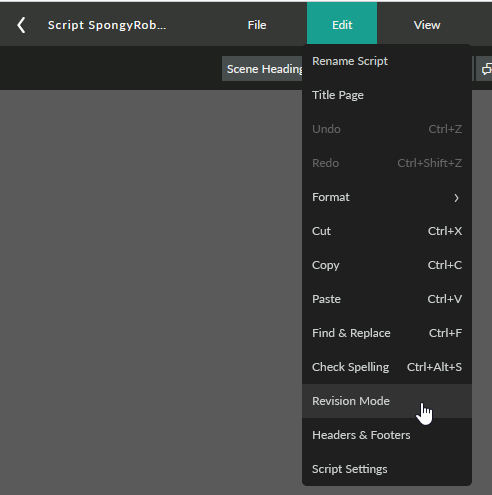 This will lock you into revision. You can't delete scene headings and any scenes you had will be sub-labelled alphabetically: 1A 1B etc.
Your edits will appear in industry-standard colour on the screen. When you print that edited script, each changed lined will have an asterisk on either side so you can easily track changes.
If you're ready to do a second revision, then you can add a second set of marks using the "add revision" plus sign


And if you'd rather delete a scene, you can use the omit button




If you're ready to take the script out of revision, click on Edit again and Reset Revisions and say "yes" to "Reset all scene numbers and revision marks?" This will change those 1As to 2s and get rid of the marked edits, accepting the script as currently written.

This video will give a full walk through of all the features: