Hitting the road? Celtx has you covered with Offline Mode – available to all plans with use of single-script Film & TV Projects within your desktop browser. No additional software required!

With Offline Mode, whether you're working alone or in a team, you can take your script – and the power of the Celtx Script Editor – wherever you go.
Enabling Offline Mode
Working Offline
Bringing your Script Back Online
Forcing a Project Back Online
Questions?
Enabling Offline Mode
To enable Offline Mode, simply select 'File' and 'Go Offline' from your Script Editor. You'll be provided a link, which you can bookmark or save on your desktop for easy access.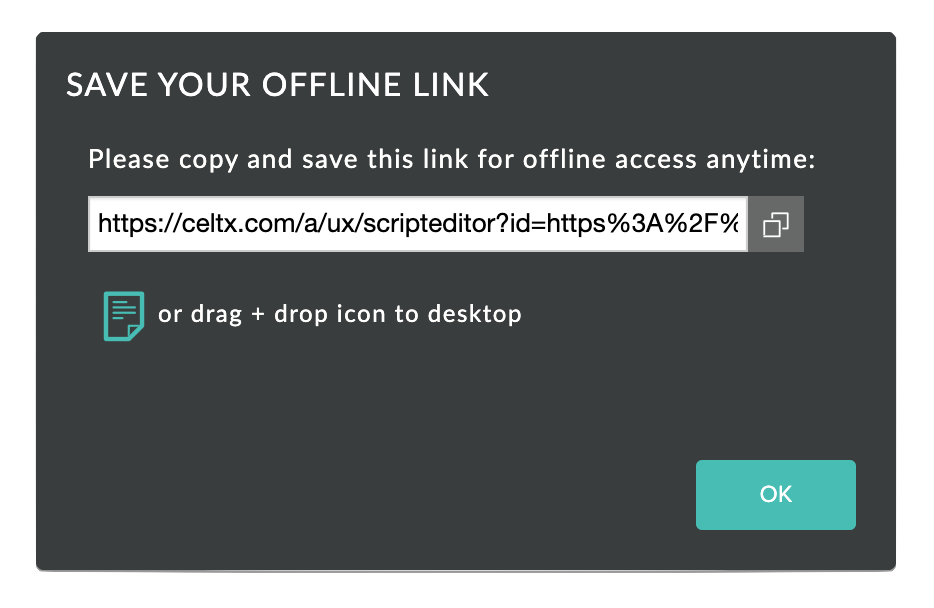 Note that once Offline Mode is enabled, the online script – and other Project Documents – will be 'locked' as 'read-only' for anyone accessing the Project online: including yourself.
Working Offline
Once your script is in Offline Mode – whether your device has an active internet connection at the time, or not – you will notice that certain features will be disabled. This is because Offline Mode allows you to edit your script, but does not include the ability to edit additional Writing or Planning documents – like the Catalog or Breakdown. These features will return upon bringing your script back online.
You can take more than one script offline at a time, as well. When your device does not have an active internet connection, pointing your browser to celtx.com will bring you to a menu containing all the offline scripts contained on your device.

While Offline Mode is enabled, you are free to close your browser – even shutdown your device: your script will be waiting for you when you return. Working in Offline Mode, you must use the same browser and the same browser profile as was used to take the script offline.
Bringing your Script Back Online
Back to homebase? You can bring your script back online as easy as you took it offline. Simply select 'File' and 'Go Online' to bring your script – and the rest of your Project – back online.
Forcing a Project Back Online
One of your collaborators is stuck in traffic but you need to update today's call sheet? No worries, any project Owner can force a script back online. Just click the 'Go Online' option again from the File menu to immediate re-activate your studio.
Don't worry about your collaborator's hard work being lost: once they take their script back online, their revisions will be held in the 'History'. You can access that script by selecting 'File' and then 'History'. You can copy and paste portions of that script directly into the latest version, or revert the entire version to the working script by clicking 'Restore'.
Questions?
How does this work? Is it magic?
Science, my dear Watson. When you enable Offline Mode for a script, your script – along with Celtx's Script Editor application – is saved to your browser's cache, which is where your browser saves information that helps it quickly load pages and remember session information, for example.
It's like you're downloading Celtx and your script, and running it all through your browser (well, it's not like that...it's exactly that).
Is there a time limit for how long I can keep my script offline?
No. However, it is good practice to bring your script back online regularly. This will ensure there is a copy of it saved to your online studio.

What if the device containing my offline script is abducted by Martians? What happens to my project?
If for any reason your device is made unusable, there will not be any way to recover those edits.
However – the progress that you've made while working online will not be lost! If you are working in a team and are not the owner, the owner can simply Force the project back online. If you are working solo or are the owner of a collaborative project, you can simply select your project from your online studio and then click 'Duplicate', to create an exact copy of that project to work from once more.
The "Go Offline" button isn't available to me ... why?
If you are not seeing the "Go Offline" button in the File menu of your script, ensure the following conditions are met:
You are using a desktop or laptop device running Windows or macOS
You are using an updated version of Chrome, Firefox, Safari or Edge.
You are not using an "Incognito" window
You are using a screenplay (Film & TV)

Project
Your Film & TV project is

not

an episodic Project
The script you are attempting to take offline is the primary project script (not a secondary script found in the a Project's 'Additional Files' or in the main Studio View section)
I took my script offline, but I cannot find it or it doesn't open ... why?
If you successfully took your script offline, but cannot access it, ensure the following:
You haven't already brought the script 'Back Online'
When clicking a link saved to your desktop, ensure that your default browser is set to the same browser you used to take it offline, or right-click the link and select "Open with ..."
For Chrome, ensure the profile – found under the Chrome 'People' menu – is the same used to take the script offline (Note: the script will not be available on different devices with the same profile).
If you cannot find the offline link you bookmarked or otherwise saved, point your browser – while offline – to celtx.com to open the Offline Script Manager
When I go offline while using VPN software the studio does not load ... why?
VPN (Virtual Private Network) software will act as a go-between your browser and your internet connection, always acting as 'online'. Most VPN apps will have an Internet kill switch option, meaning, internet access will be cut if not connected to your VPN provider. Enabling this option will allow scripts to load while offline.